My earlier work
My first dive into the world of Naval History was with this monograph on the US Navy's PT boats.
I decided to do this monograph because I had loved PT boats ever since I was a small child and my family saw PT-109 at a drive-in theater in Williamantic, CT and then from re-runs of MCHALE'S NAVY when I was in Jr. High and High School. Over the decades, I learned a lot about the boats and I just wanted to share my knowledge about them with people. An interesting side-note to this monograph was that, within a month after its initial release in April of 1994, it sold over 25,000 copies world-wide.
The title has been since passed on to, by the publisher, another author and is currently out of print. However, surplus copies of my version can be found today on http://www.amazon.com at https://www.amazon.com/dp/0897473124/ref=nav_timeline_asin?_encoding=UTF8&psc=1
My next monograph came out in 2000, and was titled VOSPER MTBs IN ACTION.
This monograph was a logical follow-on to the one on PT boats. Originally, it was my intention to do one on the small combatants of all of the nations involved in the Second World War, ie: the US, Great Britain, Germany, Italy, France, the former Soviet Union and Japan.
My research for this monograph allowed me to meet and become friends with a extremely nice gentleman named H. John Lambert. Mr. Lambert was a naval historian/author and draughtsman of considerable renown. I also took the opportunity to travel to England for a couple of weeks to do research for it. During these trips, I would meet up with John. He was extremely helpful to me in the production of the monograph. It was he who supplied many of the photos which were used as well as all of the line drawings. He also checked the text and made sure it was accurate. I often said that if it wasn't for John, that monograph would have never been published.
It took about five years and a few printing runs for it to sell 10,000 copies world wide. Unfortunately, the publisher has never republished it with a different author, but it is my second best selling monograph. Surplus copies of it can be found on http://www.amazon.com at:
My third IN ACTION monograph came out in 2003, and focused on the German Kriegsmarine's Schnellboote of World War II:
This work was, like the one on the British Vospers, a logical evolutionary progression of the theme that I was attempting to create. However, it was to become my weakest seller. For the first and only time in my writing "career", I took on a co-author to complete it. I decided to that because the person claimed to have been able to supply me with drawings from Germany which no other historian/author/history buff had seen. I sent the person's "contacts" in Germany a lot of money for those drawings, but never received them. I even spent a whole day during a "holiday" in London, going from bank to bank getting the money to send to the person's German contacts.
Still, with all of that hoopla going on, I did learn a lot of information on these craft and I was "happy" to have done it. Interestingly, my co-author contracted with the publisher to do a second edition of it in 2008 ~ which ~ supposedly ~ was going to have much more information in it. The only "new" information in it pertained to the uniform badges worn by the crews. Whereas that information could be of interest to a history buff, it would not be helpful to model builders, which are the audience which the IN ACTION monographs are targeted to. And, the information relating to the boats themselves was "cut and pasted" from the 2003 version.
Surplus copies of the 2003 version, which I feel is the better of the two, can be found on http://www.amazon.com at:
https://www.amazon.com/gp/product/0897474570/ref=dbs_a_def_rwt_bibl_vppi_i9
My last monograph for Squadron/Signal-MMD came out in 2009. It was on the US Navy's 110′ Sub Chasers:
This monograph was done at the request of my mother to have me write it and get it published before my father, her husband, died of cancer. It was a real race against time, but it was done. A copy of it was buried with him. But, it was an uphill battle to get it done. The publisher was not being cooperative to say the least, and the original batch of photos from one source were totally un-usable at great cost to me. But, thanks to my good friend, B.G. "Chip" Marshall, I received better and clearer photos to use. A man who was of great help to me was Mr. Dan Treadwell, who during World War II, commanded SC-648 in New Guinea. He had written a book on his experiences and he became, prior to his death, the "go to guy" for those historians and history buffs interested in these interesting craft. He was a nice man as well. He told me that I did an excellent job.
It might interest you who are thinking of acquiring this monograph ~ in World War One, my paternal grandfather served on two of the first incarnation of the type ~ known as the SC-1 Class, those being the SC-21 and the SC-253. My father, his son, served on the version which saw action in World War Two known as the SC-497 Class, the SC-699. An interesting story about the 699 once appeared in STAR AND STRIPES. Before my father was assigned to her in the Philippines, she operated in New Guinea. She was hit by a Japanese G4M "Betty" bomber, all of her superstructure right down to the deck was destroyed and many of her crew were killed. Those who survived saved her and she was rebuilt and went to be given to the Philippine Navy after the war. I think she was on active duty until the early 1980s.
The monograph only had one printing run of 5,000 copies and has not been reprinted. Surplus copies of it can be found on http://www.amazon.com at:
https://www.amazon.com/US-110-Subchasers-Action-Warships/dp/0897475879
Because of how Squadron had treated me regarding the second Schnellboote monograph and the one on the Sub Chasers, and because I wanted to start writing real books, I decided to find a new publisher, and I did.
In 2010, I wrote:
This was my first real book and I put a lot hard work into it, but in retrospect and from what I learned about sourcing and footnoting during my Masters' program, I now see why this book and its follow-on from the same publisher had received negative criticism. But, still … it is a good book in my opinion, despite what my detractors say. Copies of it can be found on http://www.amazon.com at:
https://www.amazon.com/Patrol-Torpedo-Boats-World-1939-1945-dp-
The follow-on to this book was one which was done at the behest of the then Naval Attaché to the Italian Embassy in Washington DC. It was on the Regia Marina's torpedo boats known as MAS Boats.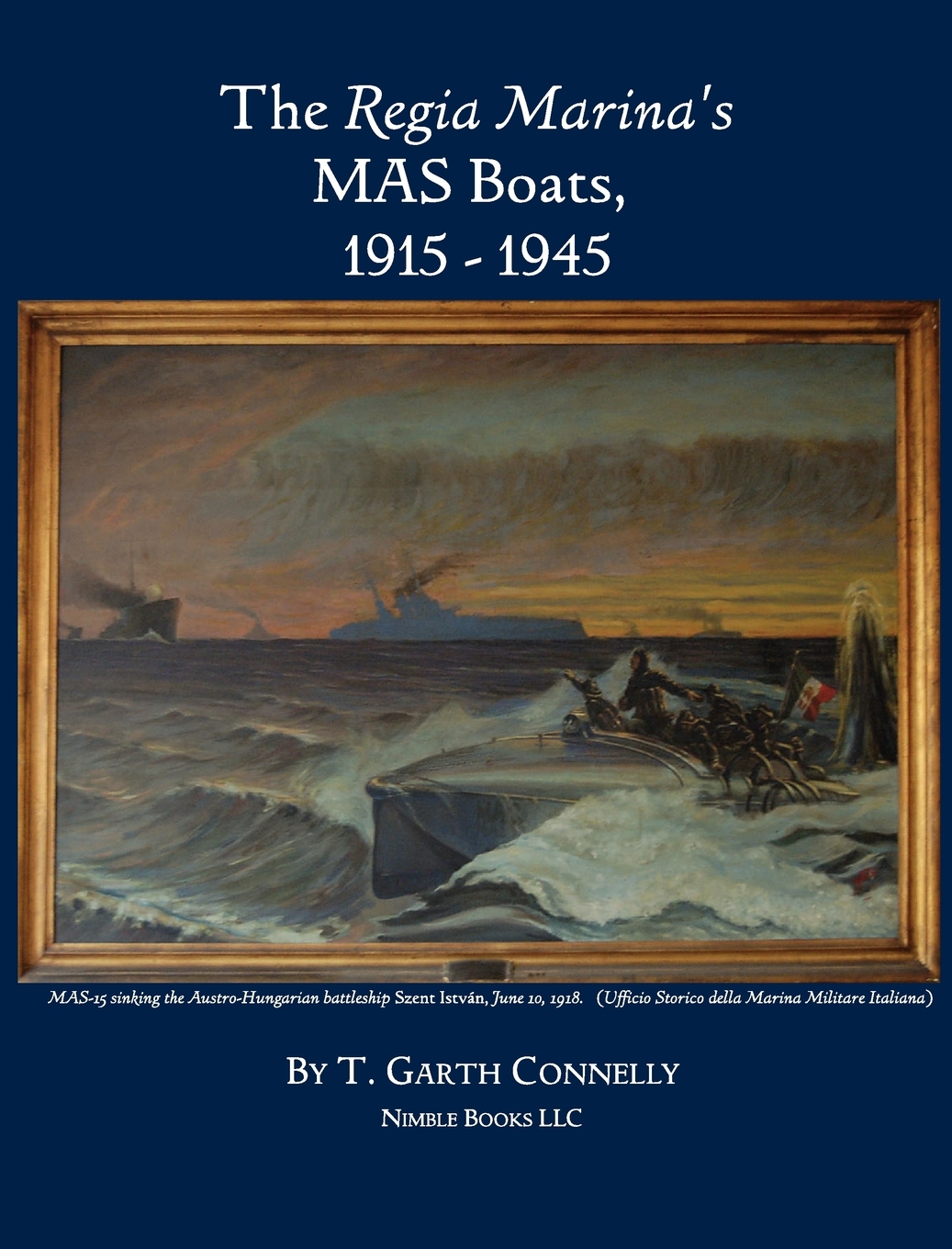 The Naval Attaché was quite helpful, he supplied with much information and many photos for the book. He even sent me a two-volume set of books on the history of the craft. The only problem was, the books were in Italian! But, I soldiered on and got it done. Copies of the book can be found on http://www.amazon.com at:
Because of editorial differences with the publisher as well as the fact that they never marketed either book they were supposed to, I never saw ads for them in any naval history periodicals or scale modeling magazines, I decided to find a new publisher.
The first book I wrote for the new publisher was a change of pace for me, inasmuch I wanted to start getting away from writing historical books and being known as a naval historian: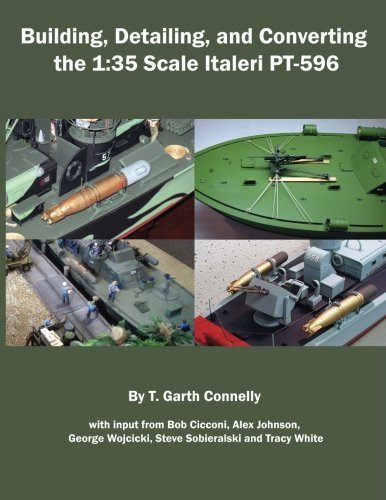 So, what I did was to gather a group of my scale modeling friends and asked to write up descriptions of how they built, detailed and converted a certain kit from an Italian model kit manufacturer (now out of production ~ or so I'm told). I figured this could assist other modelers "out there" if they were/are building the kit. I included detailed photos of real PT boats as well to let modelers see what they could include on their models if they chose to. Apparently, the concept was well received.
Copies of this book can be found on http://www.amazon.com at:
https://www.amazon.com/gp/product/1500279218/ref=dbs_a_def_rwt_bibl_vppi_i0
So, on the coat-tails of that book, I went ahead (with the same group of modelers) and wrote this: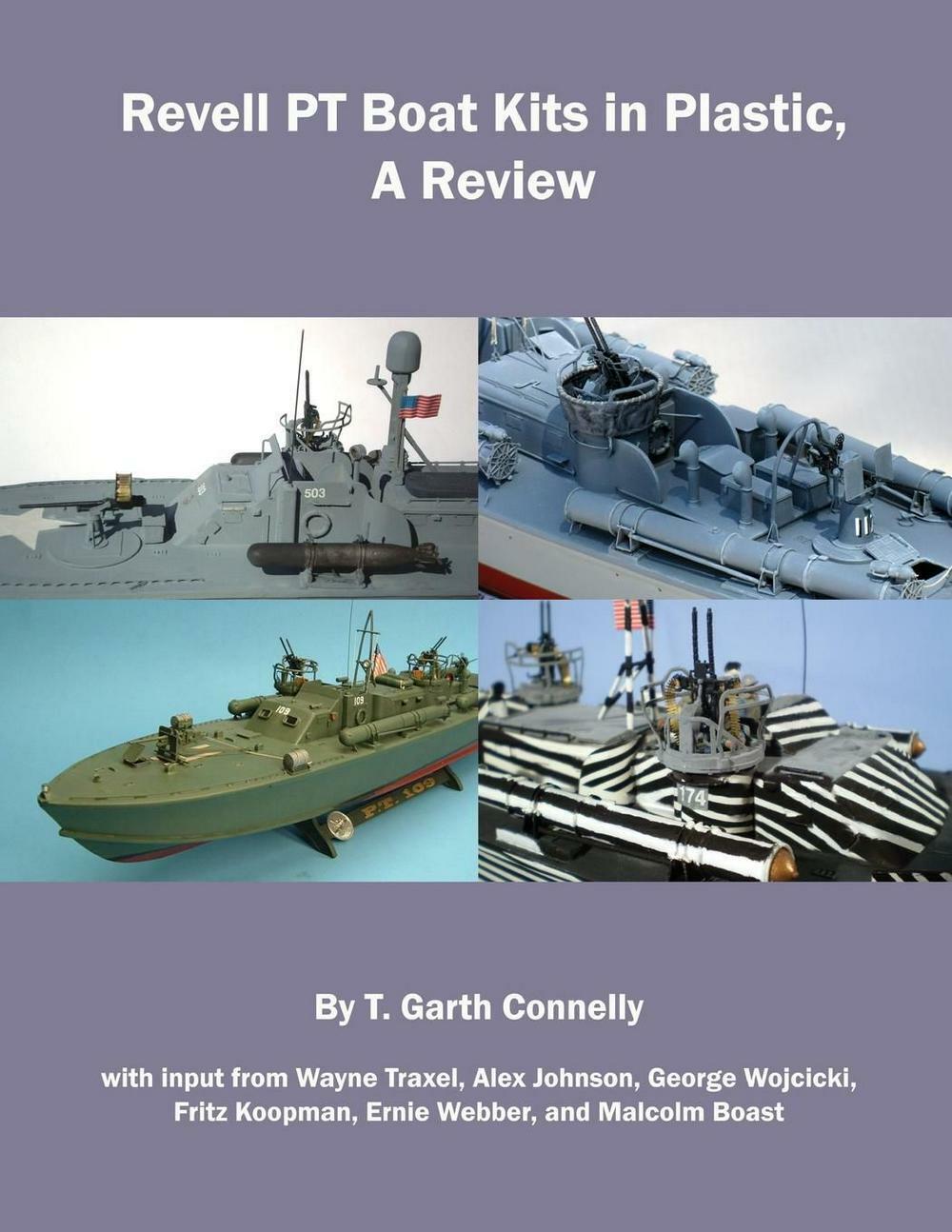 Whereas this book began life as sort of a "history" or overview of the various kits of PT Boats which the famous model manufacturer Revell has put out since the 1950s. It ended up being a collection of kit build reviews which described how to build and detail these kits. Information on what, if anything is out there in the way of after-market details which could help modelers improve these kits was included. And, like the first book, I included detailed photos of real PT boats as a aide to modelers. Again, this book was very well received.
Sadly, the day before it was due to be released, Alex Johnson, an excellent model builder, a fountain of knowledge of PT boats and a dear and trusted friend and confidant passed away from injuries received in an accident. I asked the publisher if I could send him a short note to insert into the text about Alex. He let me do it. Alex has been missed both in the modeling and PT boat communities. Since its publication, Revell has released two "new tooled" kits of PT boats. At some point, I will re-edit the book to include reviews of those kits. Stay tuned.
Unfortunately, after that book, the publisher went out of business, but before he did, he reverted the rights to those two books back to me, allowing me to self-publish them. Copies of this book can be found on ww.amazon.com at:
https://www.amazon.com/gp/product/1500279099/ref=dbs_a_def_rwt_bibl_vppi_i1#customerReviews
In 2016, during a lull in my Masters' program at SHNU, I decided to, using what I've learned about sourcing resources for books and how to foot-note and how to make a proper bibliography to do a historical book:
I must admit that what I learned in that program really work and helped me to do a good book and one I'm proud of and one that has gotten good reviews. Copies of this book can be found on http://www.amazon.com at:
https://www.amazon.com/gp/product/1530876702/ref=dbs_a_def_rwt_bibl_vppi_i2
The final "historical" work I've done and published was/is the Thesis that I wrote to acquire my Masters' degree in 2017:
I am extremely proud of this book. My hard work and my ability to do research and then, present that data in a well-written, professional matter with proper citations and a proper bibliography was rewarded with an A on my Thesis. Copies of it can be found on http://www.amazon.com at:
And, there you have them, and in chronological order, my earlier monographs and books. Even though I don't get royalties on the IN ACTION monographs, I hope you buy them as well as the other books listed here.
And, all of my earlier books and monographs are in the collection at the US Naval Academy in Annapolis, Maryland. My book on the USCG 83-foot patrol boats is in the collection of the US Coast Guard Academy in New London, Connecticut.